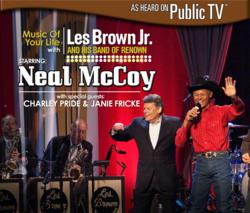 New York, NY (PRWEB) November 08, 2011
DPTV Media is pleased to announce the retail release of a concert CD and DVD collaboration pairing charismatic country music favorite, Neal McCoy and his band, with the iconic Les Brown Jr. and His Band of Renown. The 13-song CD and 21-song DVD, due Tuesday 11/8/2011, are both titled: ?Music of Your Life with Les Brown Jr. and His Band of Renown, Starring Neal McCoy, and Special Guests Charley Pride and Janie Fricke?. The recordings include many of Neal McCoy?s Top 10 hits and American Songbook standards, and will be available through traditional, online and digital outlets across North America. The concert television broadcasts begin on 11/19 on local PBS affiliates around the U.S and Canada.
McCoy, twice named Entertainer of the Year by the fan-voted TNN/Music City News Awards, had this to say recently: "My DPTV project with Les Brown gave me the opportunity to do something I always wanted to do, sing with horns and a Big Band. And I?d like to do more of that.?
The project has roots in McCoy?s earliest years, when he was singing standards with a small jazz band in Texas. ?Sentimental Journey,? a huge hit for Les Brown?s Band of Renown (the band Les Brown Sr. founded in the 1930?s as Les Brown and His Blue Devils), was a favorite of McCoy?s. When Brown and McCoy met in Branson, where Brown lives and hosts his syndicated radio show on the ?Music of Your Life? Network, Brown was tickled to know the song, written by Les Brown Sr., Bud Green and Benjamin Homer, was in McCoy?s repertoire.
Brown mentioned ?When I saw Neal?s show for the first time he was mixing his country hits with songs like ?Fly Me to the Moon? and ?I?ve Grown Accustomed to Her Face?. I had never seen a country singer do that before. I said to my wife right then and there that would love to work with this guy. I?m so glad that Public Television saw what I saw and allowed us to do this show.?
McCoy says, ?I grew up on pop music and Great American Songbook, and I love melody and good phrasing in whatever I?m singin?. As I established my cred in country, I started putting songs like ?Sentimental Journey? and ?I?ve Grown Accustomed to Her Face,? back in the shows. People love the old songs because it?s just great writing all around.?
McCoy and Brown also share a strong connection to the USO. McCoy frequently entertains U.S. and allied troops around the world, as did Les Brown Sr. in his many USO shows with Bob Hope. To date, McCoy has performed seven concerts in Iraq, two in Afghanistan, along with shows in Pakistan, Germany and Bosnia, on ships in the Persian Gulf and military bases all over the states. In the DPTV Media show, McCoy and Brown pay tribute to our military men and women with the song, ?I?m Your Biggest Fan? to a great crowd reaction.
DPTV Media, in its maverick fashion, pulled the trigger quickly on the project. ?I?m a big Neal McCoy fan,? says Jamie Westrick, Executive Producer of DPTV Media. ?Les Brown and Neal McCoy have created something very unique. We?re proud to be a part of it, and to be sharing it on PBS stations through DPTV Media.?
DPTV is the only PBS licensee in the country – and the first of its kind – with its own entertainment label, DPTV Media. DPTV Media was the #1 Billboard Top World label in 2004. DPTV Media is distributed throughout North America by eOne Entertainment. Executive Producers for this project are Jamie Westrick and Les Brown Jr., with Josette Marano serving as TV producer, and Keith Olsen and Les Brown Jr. as music producers.
The 60-minute DPTV Media concert special delivers a mix of many of McCoy's Top 10 Country hits plus several standards, all with the backing of the 20+ piece orchestra (including McCoy?s band with each player featured throughout the show). Added to the performance roster are singer Janie Fricke, who discovered Neal McCoy, and Charley Pride, who signed McCoy to his first record deal. Fricke and McCoy team on ?It?s a Cheating Situation.? Pride and McCoy duet on ?You're My Jamaica?.
In October, McCoy released the first single, "A-OK" from a new studio project due from Blaster Records in January 2012. The album, "XII" is being produced by Miranda Lambert, Blake Shelton and Brent Rowan.
Contacts:

Press Contact for DPTV Media project: Betsyann Faiella at Savoy Communications 310.283.2415
DPTV: Aimee Longato, 248.305.3778 / alongato(at)dptv(dot)org
For Neal McCoy contact: Alex Klinkhammer/Kay Waggoner, Webster & Assoc. PR – 615-777-6995 alex(at)websterpr(dot)com / kay(at)websterpr(dot)com
For Les Brown/Encore Media Group: Contact: Howard Wolf 702-382-2454
###
Find More Music Producers Press Releases