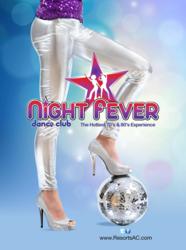 Atlantic City, NJ (PRWEB) January 05, 2012
It?s a whole new way to experience the Night at the all new Night Fever at Resorts! Night Fever Dance Club ? the hottest 70?s and 80?s experience in Atlantic City has a whole new energy and will host open auditions for new dancers, entertainers and impersonators to cast the ultimate 70?s and 80?s club in AC.
?Night Fever throws one heck of a party, and we want to see how many people out there have caught ?The Fever? so to speak,? said Dennis C. Gomes, owner, president and C.E.O. of Resorts Casino Hotel. ?I thought the open auditions would be a perfect way to capture the fun, exciting and spontaneous spirit of the 70?s and 80?s to discover the right mix of dancers and characters in the club to bring it to the next level.?
The auditions will be held in Night Fever on Friday, January 13 and will be judged by a team of Resorts executives and regional and local personalities. Plus, all party-goers will then have an opportunity to submit their votes for their favorite acts during the night. Interested applicants are encouraged to submit photos, videos and resumes in advance to 609.340.7701 or jballesteros(at)resortsac(dot)com, but all will be welcome to audition on January 13 from 9 p.m. to 11:30 p.m. Applicants can also post to the official Night Fever Facebook page at http://www.facebook.com/NightFeverAC.
Those selected from the open auditions may receive an opportunity to perform in the club on a regular basis.
The all new Night Fever will feature a regular line up of live cover bands, events and promotions that will keep guests grooving through their Friday and Saturday nights. From the iconic dances, celebrities and styles of the time, Night Fever will keep the 70?s and 80?s alive on the dance floor every weekend. Night Fever has consistently been voted the number one dance club in Atlantic City.
In 2012 partygoers can expect to see live music, exciting promotions and a new cast of characters that will keep the party going all night long. Night Fever Dance Club is located on the Dining Level of Resorts Casino Hotel. Night Fever is available to book private parties, corporate events and special occasions, as well as the premier location for bachelor and bachelorette parties in Atlantic City, call 609.340.7698 to book.
For more information on Resorts Casino Hotel visit http://www.resortsac.com or follow us on Twitter at http://www.twitter.com/resortscasino or on Facebook at http://www.facebook.com/resortscasino. Guests can like Night Fever on Facebook at http://www.facebook.com/nightfeverac.
###

and#13;
and#13;


More Music Press Releases